Chris Waltzek, Goldseek Radio, Released on 7/13/17
Interview Highlights:
Chris Martenson from PeakProsperity.com, author of the must read book, Prosper! returns from Buenos Aires.
He shares his grave concerns on the economies of South America. Argentineans are advised to prepare for runaway inflation.
The situation resembles their neighbor nation, Venezuela, forecasted to top 1000%, making a former $2.00 loaf of bread $20.00 (Figure 1.1.).
Our guest outlines how the major institutional players rig the markets.
Eventually the unprepared will wish they had procured gold and silver assets at current fire sales prices.
Chris Martenson suggests every investor must accumulate at least 10% of total investment portfolio.
The huge state deficit in Illinois may represent the canary in the coal mine – taxpayers are on the hook for the pension fiasco, 33% tax increases are driving formerly content people / businesses to new states.
Figure 1.1. Venezuelan Inflation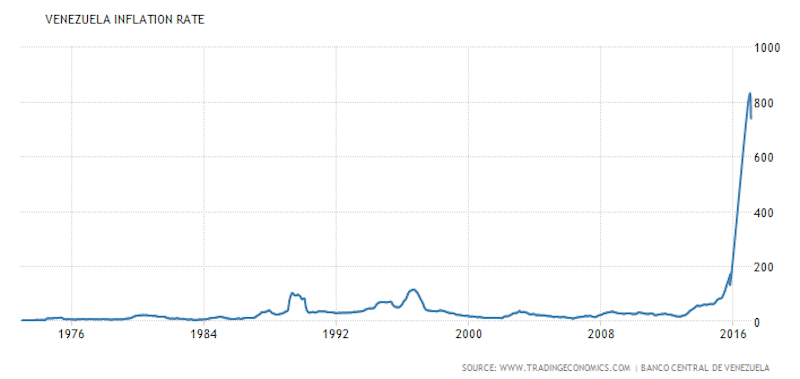 Note: Graph courtesy of www.tradingeconomics.com and Banco Central De Venezuela.
Christopher Martenson is a former American biochemical scientist. Currently he is a writer and trend forecaster interested in macro trends regarding the economy, energy composition and environment. He is the founder of PeakProsperity.com. As one of the early econobloggers who forecasted the housing market collapse and stock market correction years in advance, Chris rose to prominence with the launch of his seminal video seminar which later became a book called The Crash Course. Chris' latest book (co-authored with Adam Taggart) is called Prosper!: How to Prepare for the Future and Create a World Worth Inheriting
.